Long-Term Care
Homelike Environment
A warm, friendly atmosphere to make you feel secure and comfortable.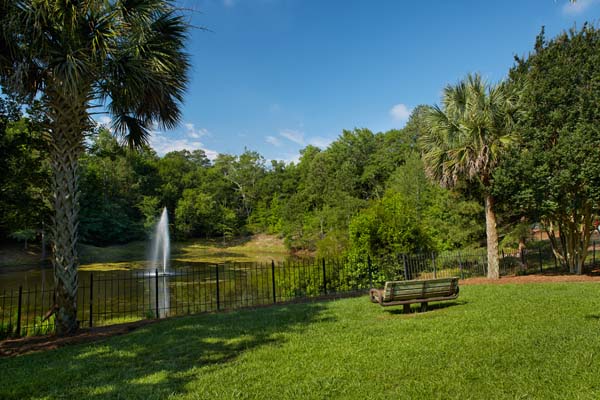 Calm Rural Setting
We're located on 53 acres in a residential setting next to the town of Lexington.
The exercise bikes in our physical therapy area face a forested landscape for a relaxing view of the outdoors.
"One day, Mother looked at me and said, 'This is a nice place and they are so good to me.' Her words were like music to my ears."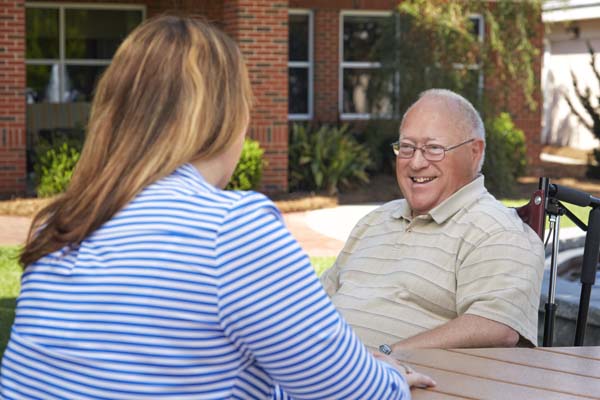 Abundant Outdoor Spaces
Sit outside by a peaceful fountain, or relax in one of our spacious, vibrant gardens.
Our outdoor areas are great for spending time with your visitors.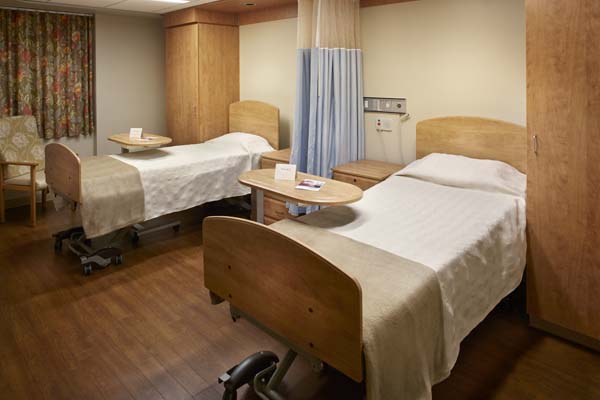 Modern, Comfortable Rooms
Both single and double occupancy rooms are available.
Bring personal items to make your room feel more like home.
Gift Shop
Everyone likes to shop! And there's a little something for everyone in our gift shop.
You and your visitors will enjoy finding that something special there.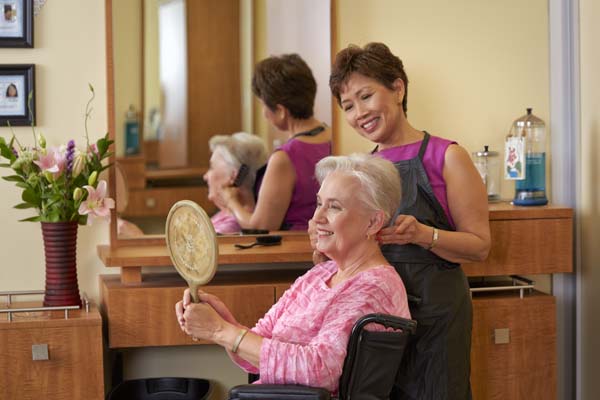 Professional Hair Salon
Get your hair styled just like you want!
Our licensed stylists provide professional services in a comfortable environment with state-of-the-art equipment.
Exceptional Care
We're always working to help you achieve and maintain your highest level of independence.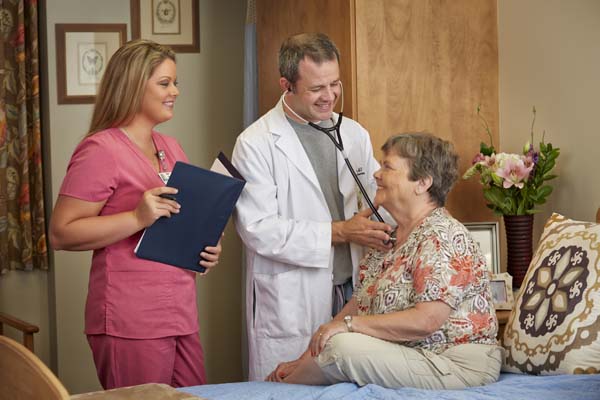 Physician Services
Doctors from Lexington Medical Center specializing in internal medicine make daily rounds Monday through Friday.
These physicians are available to our nursing staff at all times to help with your medical needs.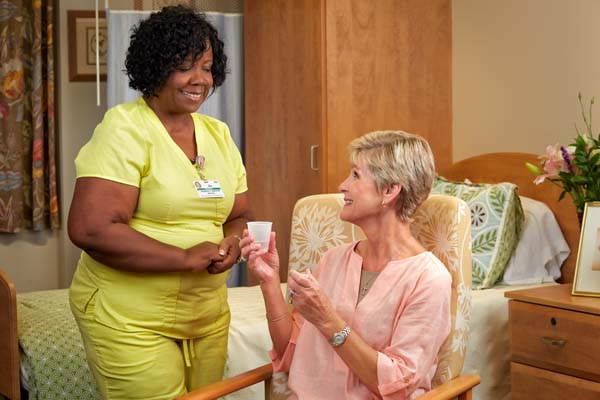 Highly Qualified Staff
Whether it's our compassionate nursing staff or our professional support services, our team is dedicated to providing the quality of care you deserve.
It's important that the people treating you know you and your health history. We focus on retaining our employees to make that possible.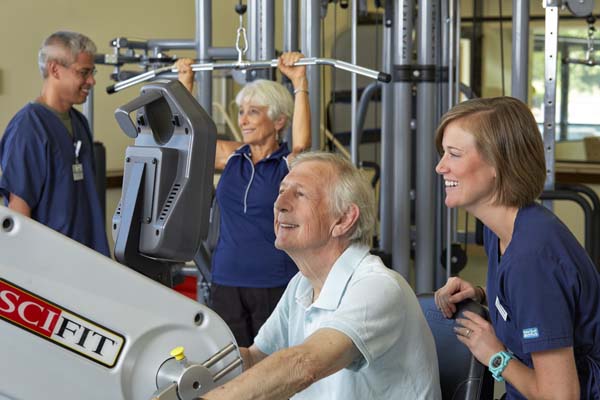 Comprehensive Rehab
Physical, occupational, speech and respiratory therapists will tailor a rehab program especially for you.
Our highly-trained therapy staff will work with you up to six days a week.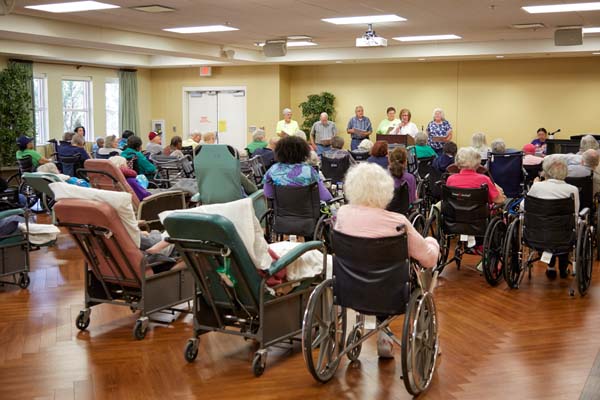 Group Events
Concerts, performances, game nights and other forms of entertainment take place daily in our community center.
Most events are also available for you to view live on closed circuit television in your room or the dayroom.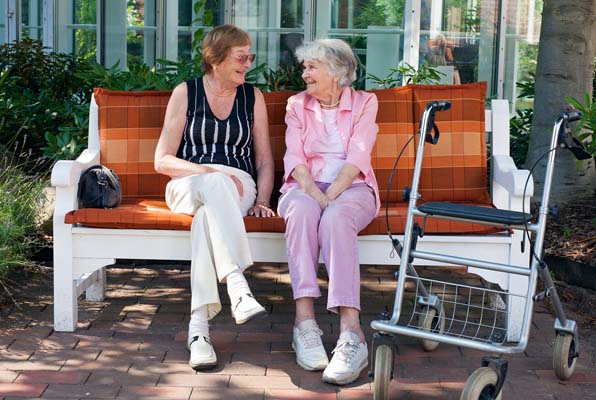 Social Outings
For a change of scenery, we occasionally take trips to the park, the mall or the lake.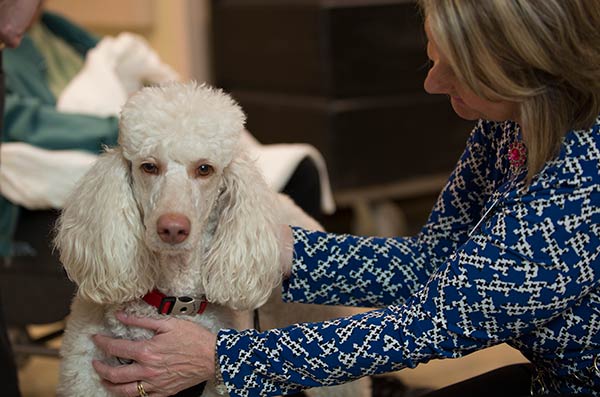 Pets Welcome
Pets are an important part of everyday life, and having them visit can help you feel more at home.
Your pets must first be cleared by the volunteer office. After that, a friend or family member can bring them in to visit any time.
Alzheimer's Care
A specially-designed unit for residents with Alzheimer's or related dementia.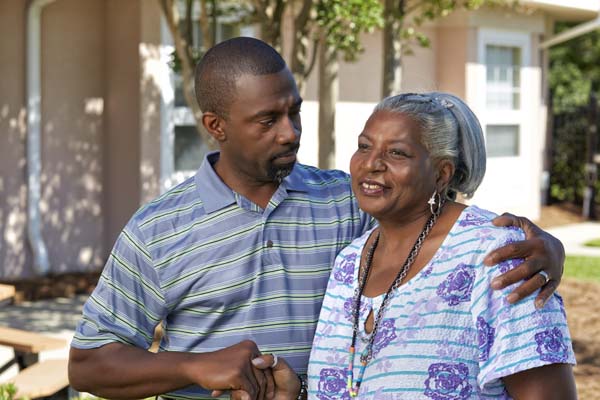 Designed for Alzheimer's Care
Our special care unit is specifically designed for residents with Alzheimer's or related dementia.
Controlled access gives residents the freedom they desire and the safety they need, and the beautiful outdoor garden provides a peaceful place for visiting.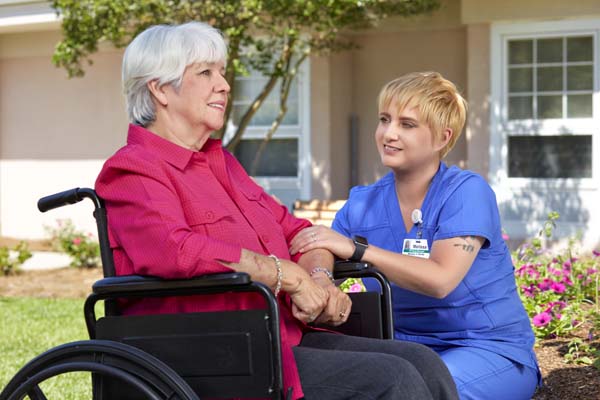 Highly-Skilled Staff
Our compassionate staff treats residents with dignity and respect.