Rehabilitation
Physical Therapy
State-of-the-art treatment and equipment to help you reach your maximum potential.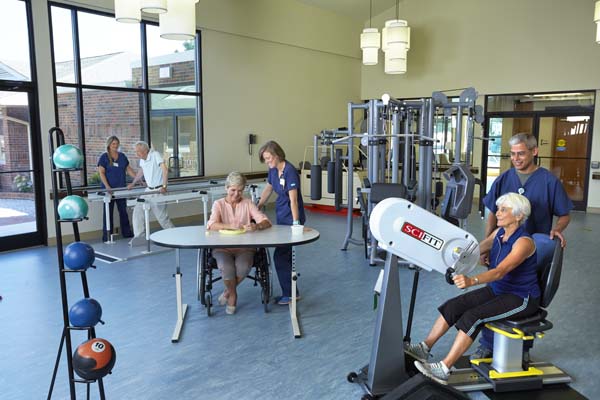 Ultra-Modern Rehab Gym
Part of our modern rehabilitation facility, our gym offers one-on-one training for steady progress toward recovery.
Your therapist will work with you to create a program that's right for your treatment.
"We're so grateful for the work you all do. We've visited other facilities, and we say you're the best."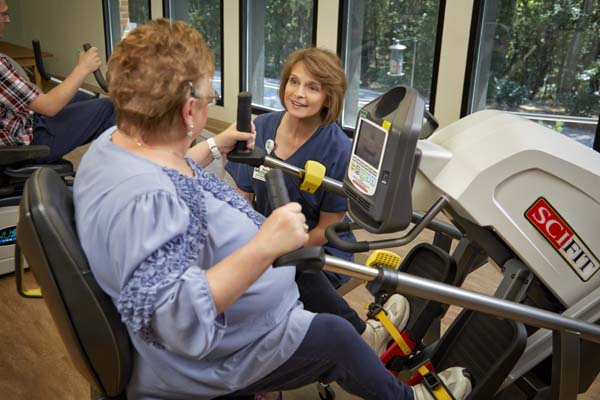 Cardio With a View
Enjoy the outdoor view from each cardio machine to make therapy as relaxing as possible.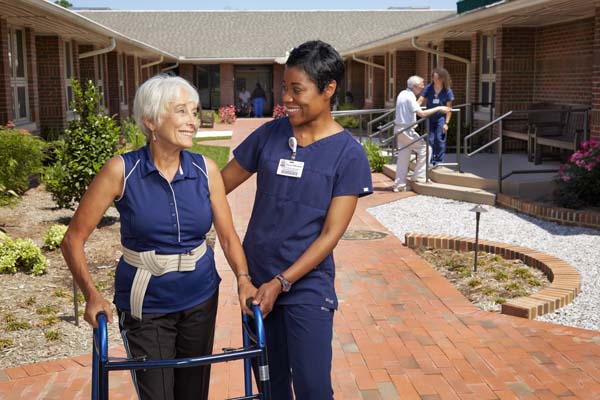 Therapy Courtyard
The garden off the large gym is more than just a beautiful space. It's designed to help you practice walking on different terrain.
Improve your stability on sand, rocks, grass, rough concrete and stairs inside a peaceful courtyard.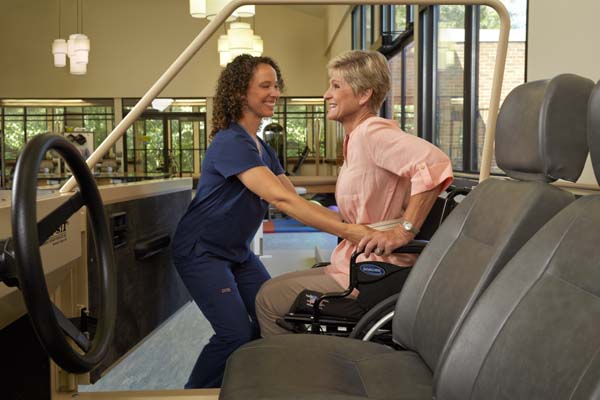 Car Transfers
Everyone likes to travel. Practice getting in and out of a car safely with our car transfer simulator.
The car transfer simulator adjusts up and down so you can practice mobility with the actual height of your car, in a controlled environment.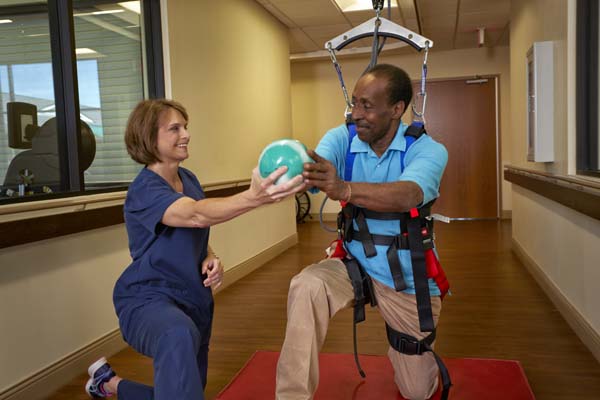 Walking Harness
Specialized harnesses attached to a track in the ceiling reduce your weight while walking so you can begin therapy as early as possible.
By gradually increasing the weight you bear as your body is ready, this equipment can help you walk again faster.
Occupational Therapy
Building confidence with everyday tasks to improve your quality of life.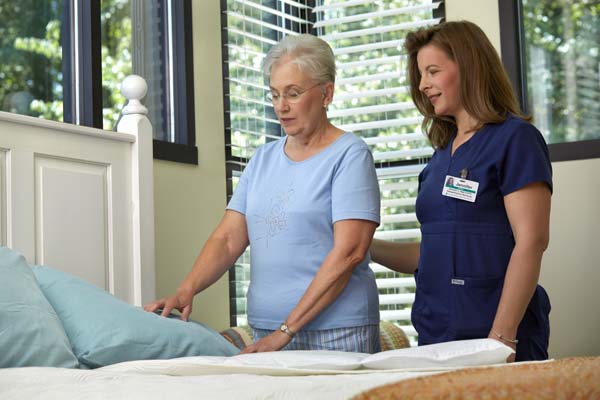 Adapting to Home
The therapy apartment offers a home-like environment where you can become comfortable performing household tasks.
Learn to confidently move around the house again, preparing for the day, putting clothes away and cleaning.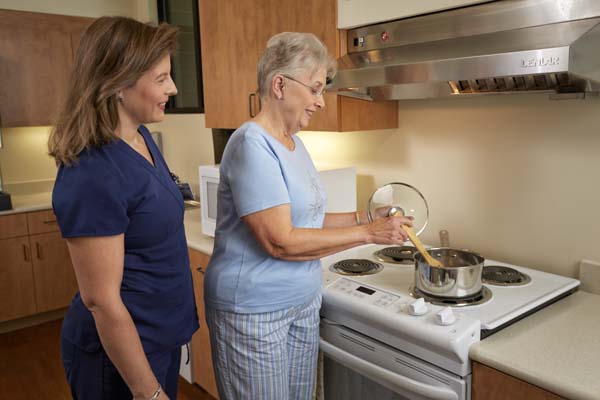 Confidence in the Kitchen
A full working kitchen helps you practice cooking, washing dishes, and other common kitchen tasks.
Speech Therapy
Therapy to help improve your self-expression and ability to eat safely.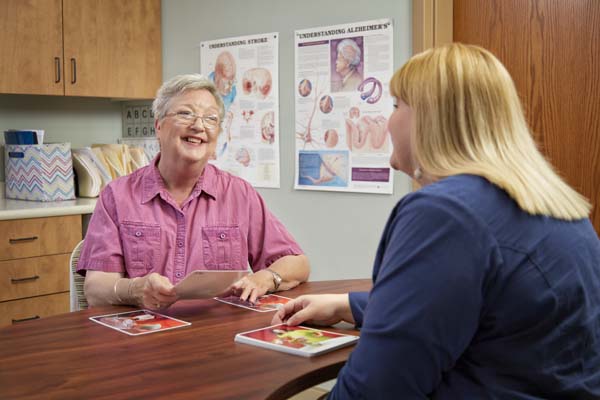 Cognitive Practice
Your therapist will help strengthen your cognitive skills so you'll remember previous behavior and thought patterns, helping you function better in real-world situations.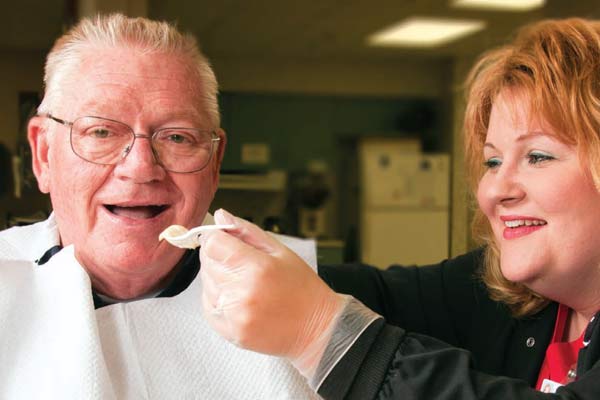 Treatment for Swallowing Disorders
Different techniques and exercises can help you reactivate the muscles and nerves that make swallowing possible.
Respiratory Therapy
Treatment and training to help you reduce stress and anxiety, and breathe easier on your own.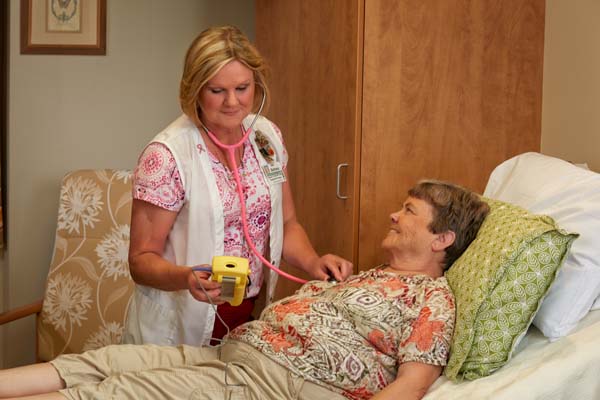 Diagnoses Treated
We treat asthma, emphysema, COPD (chronic obstructive pulmonary disease), pneumonia, pulmonary fibrosis, lung resection and lung cancer.
After an initial screening and evaluation, your treatment may include oxygen therapy, delivery of aerosol medications, breathing exercises, relaxation techniques and stress management.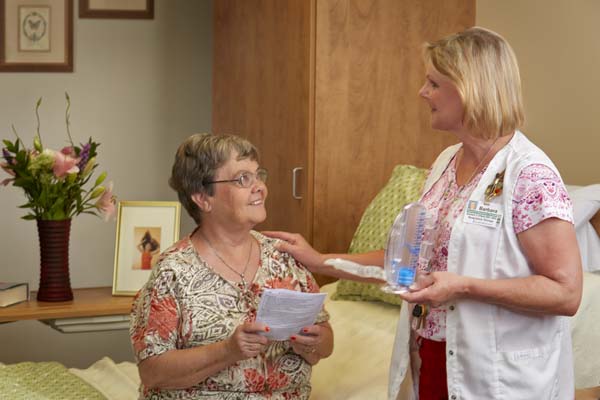 Relaxation Techniques
Controlled breathing exercises from respiratory therapists can help you relax.
Reducing the stress that comes with respiratory difficulty will help you get the most out of your therapy.